&nbsp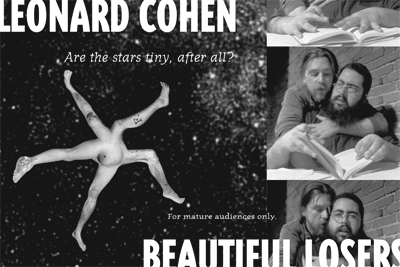 The Research
At the centre of Cohen's novel are the members of a love triangle, united by their obsessions and fascination with a seventeenth-century Mohawk blessed, Kateri Tekakwitha. The triangle is made up of the unnamed narrator, an authority on the vanishing A------ tribe, his wife Edith, one of the last surviving members of the tribe, and their maniacal and domineering friend, F, who may or may not exist. Time is non-linear and oscillates frequently between 20th and 17th century Quebec.
The text is sometimes coarse, rhapsodic and bitingly witty, as it explores the particular brand of self-abandonment each character adopts, whereby the sensualist becomes indistinguishable from the saint. Beautiful Losers is considered a Canadian literature classic.
The Experiment
In residency at Arcosanti in Arizona, we distilled Cohen's masterful, linguistic trick of a novel into a powerful story theater script. We developed the production during rehearsals in Vermont, utilizing an almost bare stage, three actors portraying dozens of characters (often at the same time) and a highly physical, kaleidoscopic performance style. BEAUTIFUL LOSERS was presented on the opening night of Montreal 2000: The Leonard Cohen Event at McGill University (Cohen's Alma Mater), The Hooker Dunham Theater in Brattleboro, Vermont and at the 10th Annual Montreal International Fringe Festival.
From the playwright's program note:
What you see on stage here is a stripping down. A reducing process I call unwriting of a text packed deep with connections. I hope what we have done has laid bare these networks. If we have succeeded you will undergo time and language collapsing in on themselves to reveal an escape hatch from direct experience, through memory, history and religion and into something beyond. Some dim reflection of what we might call absolute truth. Perhaps just the possibility of its existence. It is, in Cohen's words, "...all part of a necklace of incomparable beauty and unmeaning."
The Findings
Cohen scholar, Professor Stephen Scobie called our production "Brave and astounding" in his address to the attendees of Montreal 2000: The Leonard Cohen Event. Leonard's sister, Esther Cohen, deemed it "Herculean." The Montreal Gazette said we gave "tight, polished, full-speed-ahead performances." The creative process spanned ten months and exemplified "enthusiastic collaboration." Perhaps Beautiful Losers success, for us, can be measured by the durability of our desire to remount a larger scale production of the piece including a master production design of interlocking puppets, sets and props. Our production was authorized under a special licensing agreement with Mr. Cohen.
© 2008 The Laboratory for Enthusiastic Collaboration All rights reserved